30. Oktober 2022
Combating terrorism financing: What more can be done?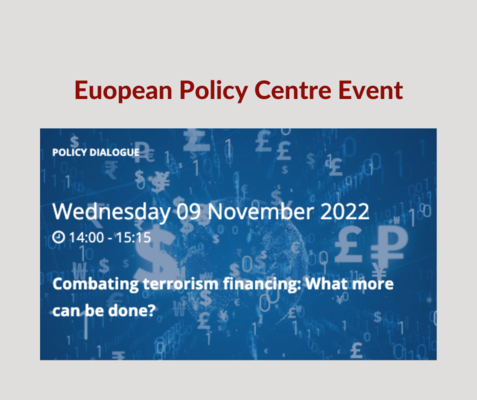 Veto! is happy to share the upcoming event at the European Policy Centre:
The European Policy Centre, in cooperation with the European Foundation for Democracy, is pleased to invite you to this hybrid Policy Dialogue on the role of financial technologies in terrorist and extremist activities.
Terrorist organisations can continue to pursue their activities thanks to a considerable amount of financial support coming from third countries, including Russia. Even though financial transfers are becoming increasingly scrutinised and restricted, the development of new financial technologies reduces authorities' control over the flow of money within and out of these organisations. In this discussion, experts will reflect on the challenges of monitoring how terrorist and extremist activities are financed. How do groups make use of new financial technologies to support their activities? How can authorities adapt to these developments?
Wednesday, 09 November 2022
14:00 - 15:15
Further information and registration via European Policy Centre: https://www.epc.eu/en/events/Combating-terrorism-financing~4bb8c4
---
Speakers
Ilkka Salmi
EU Counter-terrorism Coordinator, Council of the European Union
Rebecca Schönenbach
CEO, VETO! For the Rule of Law
Roberta Bonazzi
President, European Foundation for Democracy
Stephen Reimer
Research Fellow, RUSI Europe
Moderator
Amanda Paul
Senior Policy Analyst, European Policy Centre